The SSE Group's vision is to be a leading energy company in a net zero world. Our purpose is to provide the energy needed today while building a better world of energy for tomorrow. To achieve this, our strategy is to create value for shareholders and society from developing, operating and owning energy and related infrastructure in a sustainable way.
Building a low-carbon electricity system will achieve cleaner, cheaper and more secure homegrown energy. SSE is taking action through our Net Zero Acceleration Programme. We're investing £7m on average every single day in homegrown energy, delivering thousands of green jobs, and building the world's largest offshore wind farm.
And SSE Energy Solutions is helping businesses and public sector organisations cut carbon emissions with smart energy and infrastructure choices. We help other companies decarbonise their energy usage through our whole system thinking.
SSE's 2030 goals
SSE's business strategy places sustainability, which includes addressing the challenge of climate change, at the very core of what we do. That's why we've decided to align our long-term business goals with United Nations Sustainable Development Goals (SDGs):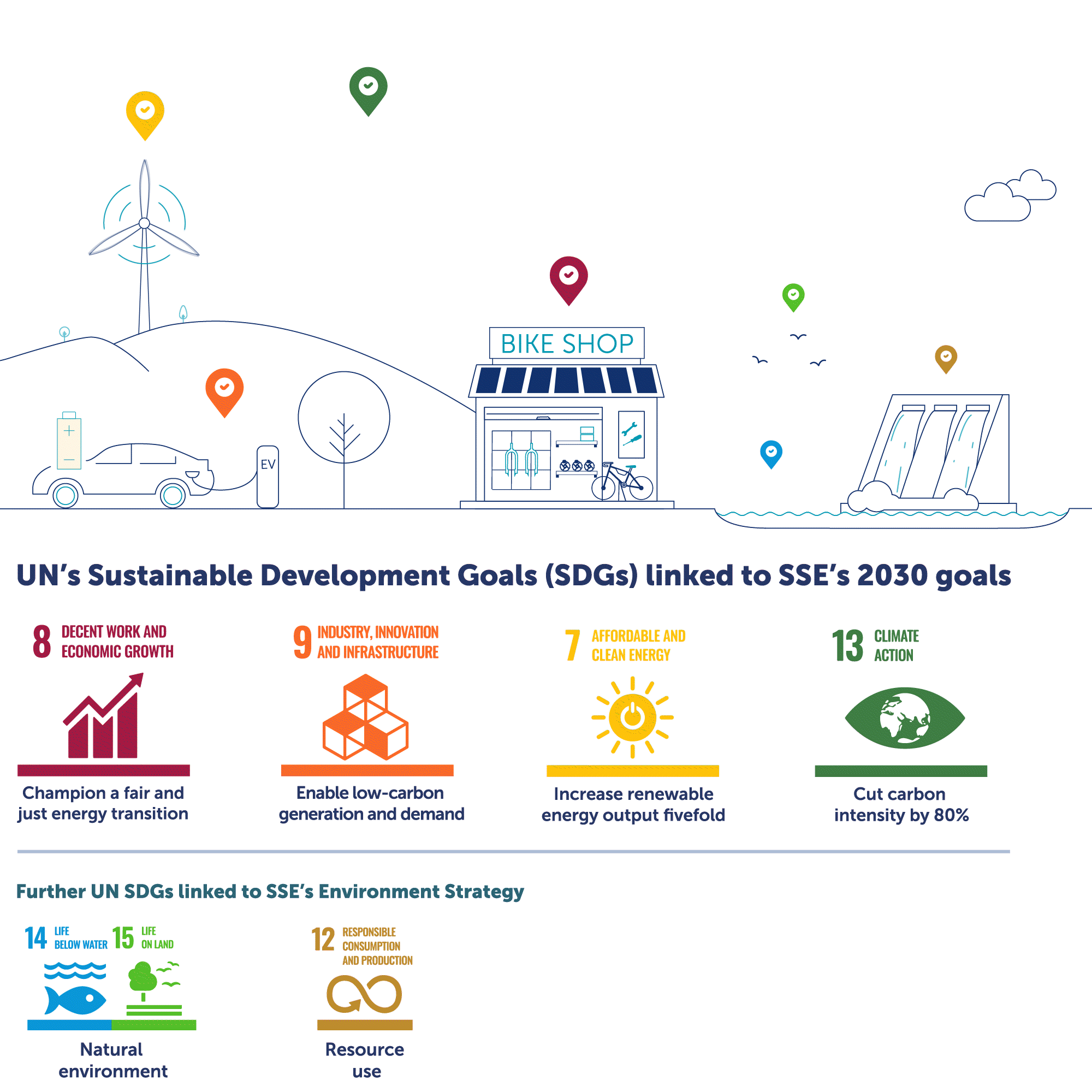 Cut carbon intensity by 80%: Reduce Scope 1 carbon intensity by 80% by 2030, compared to 2017/18 levels, to 61gCO2e/kWh. SDG 13: climate action
Increase renewable energy output fivefold: Build a renewable energy portfolio that generates at least 50TWh of renewable electricity a year by 2030. SDG 7: affordable and clean energy
Enable low-carbon generation and demand: Enable at least 20GW of renewable generation and facilitate around 2 million EVs and 1 million heat pumps on SSEN's electricity networks by 2030. SDG 9: industry, innovation and infrastructure
Champion a fair and just energy transition: Be a global leader for the just transition to net zero, with a guarantee of fair work and commitment to paying fair tax and sharing economic value. SDG 8: decent work and economic growth
How SSE Energy Solutions supports SSE's goals
SSE Energy Solutions provides renewable energy and low-carbon energy solutions for businesses and local authority customers across the UK.
SSE has made progress towards a sustainable future for our business, reducing our energy spend, cutting our carbon footprint and investing heavily in renewable energy generation.
At the same time, SSE Energy Solutions has looked closely at the pressures companies of all sizes face both to meet the demands of their own customers and to satisfy their aspirations as forward-thinking companies.
This has allowed us to develop practical solutions to help your business on its journey towards a more sustainable future.
Here are some key ways SSE Energy Solutions is supporting SSE's 2030 goals and Net Zero Acceleration Programme: